Lauren Rutzick Returns to bdh+young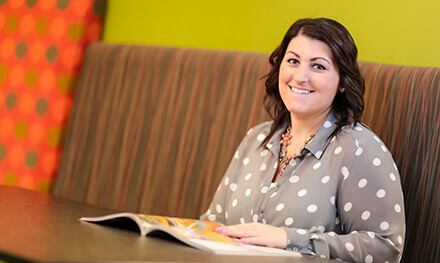 Lauren Rutzick has returned to bdh+young to serve as a Senior Project Designer. Lauren previously worked at bdh+young for five years but left the Twin Cities in 2016 to pursue her dream of living in the Windy City. Following her stint designing corporate projects at Shive-Hattery, Lauren made her way back to bdh+young.
"I missed the culture of the bdh+young office while I was in Chicago," said Lauren. "I'm looking forward to being part of a supportive firm again that allows me to push my personal boundaries and learn while having fun."
As a certified interior designer, Lauren is most passionate about the programming and space planning phases of design. She strives to thoroughly understand each client's unique needs and is invigorated by the challenge of successfully incorporating those requirements into customized design solutions that align with the client's overall vision.
As Senior Project Designer, Lauren is responsible for performing all aspects of the design process including schematic design, design development, and construction documents, while managing project timelines, budgets and design quality. Lauren enjoys collaborating with fellow designers and clients to create workspaces that positively impact the day-to-day experience of the end users.
Contact Lauren to find out how her team can add value to your next project.