Jeff Gears Promoted to Vice President of Architecture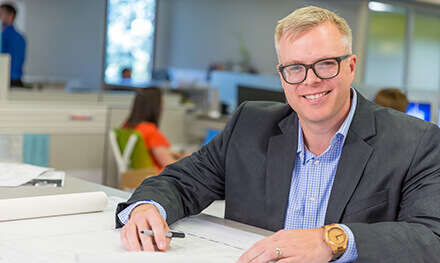 bdh+young is proud to announce Jeff Gears' promotion to Vice President of Architecture.
Jeff enjoys all aspects of architecture, but especially collaborating with clients to better understand their wants and needs, then establishing design solutions that exceed expectations. He is dedicated to creating unique experiences for each end user while aligning with projects goals, budget and timeline.
"It's great to be in an environment where I'm surrounded by talented and hardworking people that have a passion for good design as well as passion for life and having fun. I'm honored and excited to be leading the architecture department at such an established design firm in the Twin Cities," said Jeff. "I'm looking forward to continuing to build the firm's portfolio and connecting people to well designed spaces that transform the way they interact with the built environment."
As a high achieving leader and design expert, Jeff often helps clients look at challenges in a new way to find potential opportunities. Contact Jeff to find out how he can add value to your next project.