New Leadership Accompanies New BDH Brand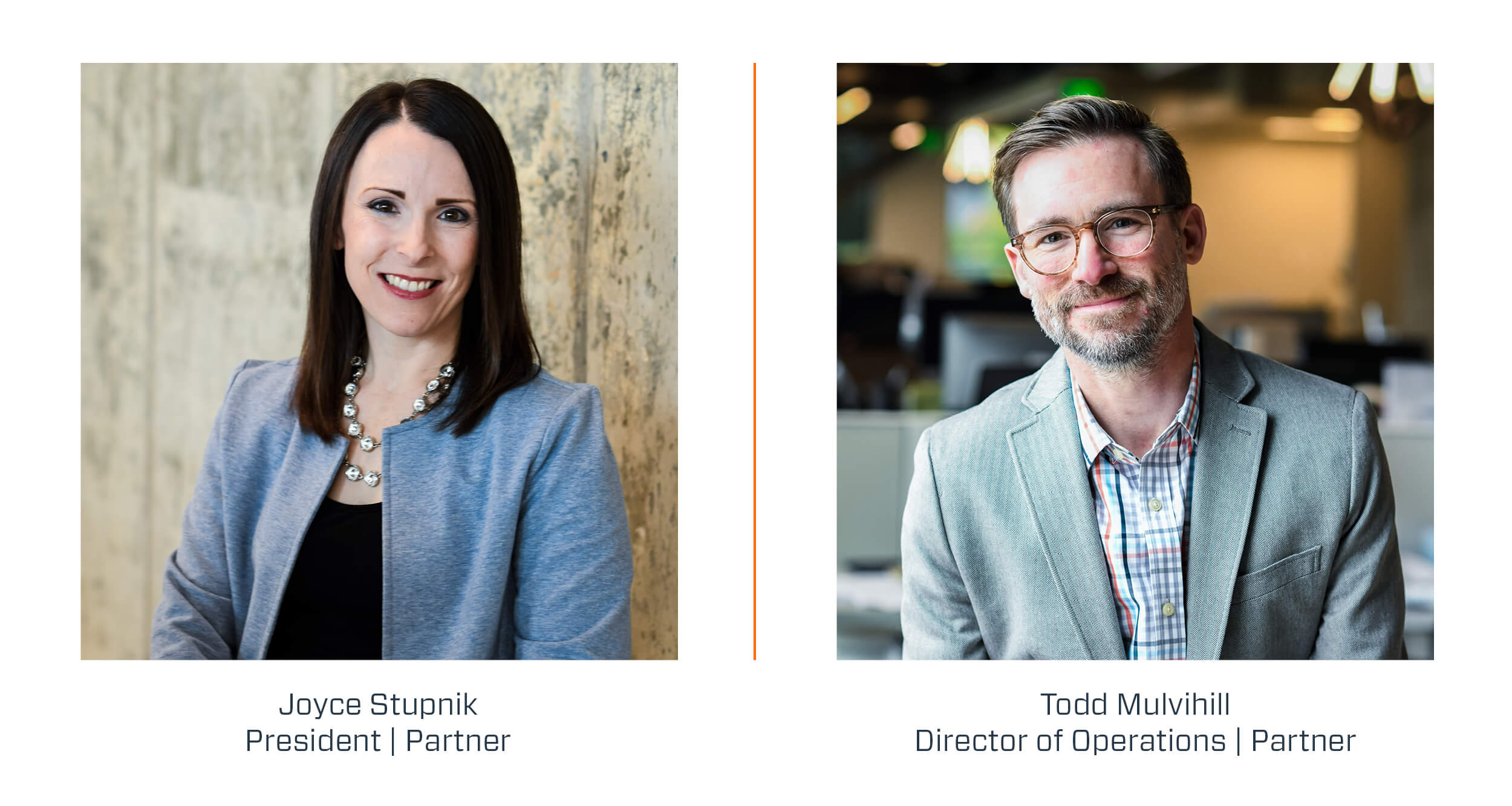 We recently moved to Minneapolis and rebranded to reflect our renewed sense of energy and drive to create design that makes life better, but the transformation doesn't stop there. Today, we announce new leadership that will elevate the firm and lead our talented team of designers to continued success. Joyce Stupnik has been promoted to President and Todd Mulvihill has been promoted to Director of Operations.
With more than 12 years of experience managing design projects and guiding a team of designers at BDH, Joyce has naturally grown into a leadership role. As a partner in the firm, her passion for positively impacting people is reflected not only in her design solutions but in her strategic leadership style and commitment to the firm's long-term vision and goals.
"I'm energized by the future of this firm and am dedicated to elevating our brand, design solutions, and impact on the community," said Joyce Stupnik, President of BDH. "Our design talent and understanding of how our skills can transform people's lives has soared.  The changes resulting from our new brand, new office, and now new leadership are going to take us closer to our aspiration of being a firm both clients and design talent admire."
Todd has been an employee of BDH for over 20 years. He has evolved through many roles including the IT manager and a partner in the firm. With immense experience navigating the design processes and day-to-day activity, Todd has built BDH's extremely technical infrastructure from the ground up. Todd is now responsible for managing the daily operations of the business.
"Considering the recent rebrand and office move, BDH has evolved tremendously over the last few months," said Todd Mulvihilll, Director of Operations. "Although BDH will remain a people-centered design firm, our business operations will continue to advance alongside the brand, technology and overall architecture and design industry, pushing us to the next level of innovation."
Legacy partners Jill Brecount and Kim Dennis will continue to provide valuable insight to the talented team of BDH designers and entrust Joyce and Todd to manage the business strategy and lead the firm into the next generation.
"Joyce and Todd have been prominent leaders on our team for many years. As partners and accomplished designers, they have a strong understanding of the business and their drive and passion for creating transformative design is undeniable," said Kim Dennis, Principal at BDH. "Jill and I are pleased to hand the reigns over to Joyce and Todd."
"BDH was founded on the belief that design should be about people and we know Joyce and Todd are devoted to continuing that legacy," said Jill Brecount, Principal of BDH. "Kim and I are eager to see the firm continue to transform the world through design under their leadership."